One of my new blogger buddies,Karen, over at Planet Books just
tagged me for a meme
recently and I thought it would be fun to give it a whirl. It's a game that's right up my alley,actually-I and the other two chosen blogs were given three lists made up of three books each and asked to subtract one of the titles.
You then add in a book of your own choosing,based on the topic of the list,of course. The only other requirement is that your book be a current one(within the last couple of years). Now that everyone knows the rules of the game,let us begin:
3 MUST READ BOOKS:
Original list: Mister Pip by Lloyd Jones. I've heard good things about this one,the story takes place on a island called Bougainville near New Guinea during the 1990s where most of the foreign residents have fled,due to fear of rebel invasion. One man has stayed behind,Mr. Watts,who agrees to become the new school teacher and uses Great Expectations as his lesson plan. I haven't read it but it does sound like an interesting read.
Planet Book Pick: Keeping the House by Ellen Baker. This is a
book that I loved
as well and I'm happy to see it here. This is a wonderful novel about finding your future by looking into the past for inspiration. Keeping the House just came out in paperback this summer,so I suspect that plenty of reading groups will snatch this baby up for their lists this season.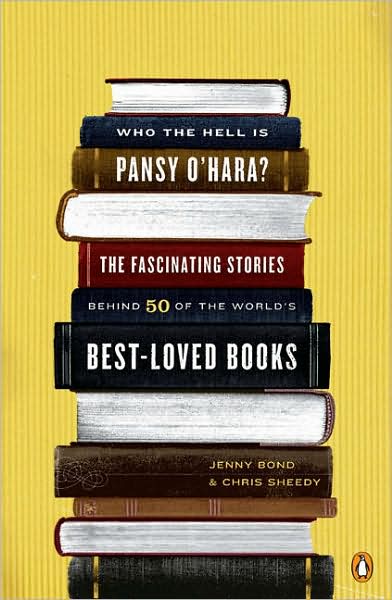 LRG Pick: Who the Hell is Pansy O'Hara:The Fascinating Stories Behind 50 of the World's Best Loved Books by Jenny Bond and Chris Sheedy.
Every reader,in my humble opinion,should have a book or two about the history of writers and this handy little number perfectly fits the bill.
In brief but informative chapters,the authors go over the life and times of such famous books as Pride & Prejudice,Jane Eyre,War of the Worlds and Winnie the Pooh along with background info on their authors and their literary connections(did you know that H.G. Wells had Thomas Huxley as one of his teachers and then when Wells became a teacher himself,A.A. Milne was a student of his? I sure didn't!)
Modern titles like The Color Purple,Carrie and The DaVinci Code are also highlighted along with nonfiction favorites such as Roots,In Cold Blood and A Brief History of Time. This is a nice collection of literary factoids that will educate,refresh or be useful to have on hand if you're a Phone-a-Friend on Who Wants to Be a Millionaire(it's still on the air,in a daytime format).
3 KEEP YOUR EYES ON THESE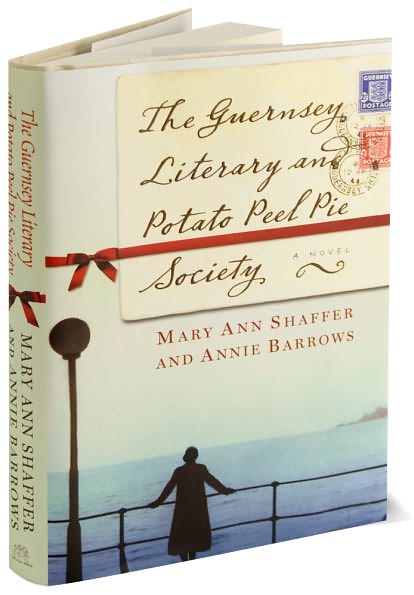 Original list: The Guernsey Literary and Potato Peel Pie Society by Mary Ann Shaffer and Annie Barrows. Another good book that I got to
read and review
and from what I hear,it's doing very well on the bestseller lists.
I know that Oprah's announcing her new Book Club Selection next Friday and since we know her pick is from a different publisher than the one that is putting out GL&PPPS,it's not in the running,which is a shame.
I'm sure that the Oprah pick will be interesting but it would be nice to see someone out there in TV land give this book a promo push-hey,Ellen,want to start a book club on your show?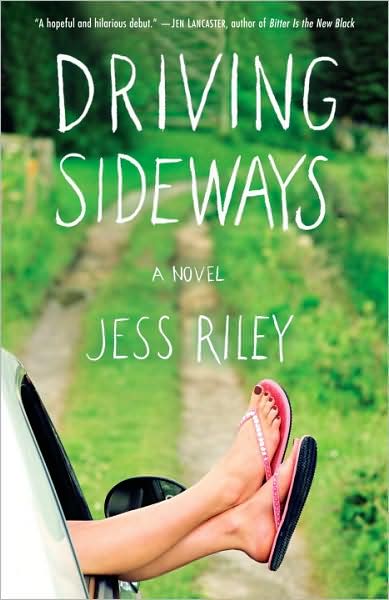 Planet Books Pick: Driving Sideways by Jess Riley. The leading lady of the story is Leigh Fielding,a recent recipient of a kidney transplant who feels as if her new interests in life(graphic novels,ethnic food,kayaking)are the results of channeling the spirit of her donor,Larry.
Leigh decides to take an "Unfinished Business Tour",to look up old friends and family as well as check on Larry's next of kin. Along the way,she picks up a hitchhiking teenager named Denise who has her own unfinished business to deal with.
I haven't read this book but I can see why Planet Books chose it,this story seems to have a fun and funky flavor to it. Oh,and the author Jess Riley was tagged with this meme,too and plans to respond to it by next week. Check out
her blog
to see what she selects.
LRG Pick: The Heretic's Daughter by Kathleen Kent. This is my big read this weekend and the book's already gotten some great reviews,including one in the New York Times
by Chelsea Cain
,pretty sweet!
What's not so sweet is the horrors that Sarah Carrier must witness her mother Martha being put through as a defendant during the infamous Salem Witch Trials.
Sarah is 11 when her mother is accused and not only has to endure the ordeal of the trial,in which Martha insists upon her innocence and doesn't back down,but struggles to keep her family together during this terrible and terrifying time.
The author of this novel is a
tenth generation descendant
of Martha Carrier,which gives the book an extra dose of poignancy. I'll fill you folks in on how the book is next week but I can feel it in my bones that this is a thumping good read.
3 LOOK FOR THESE SOON
Original list: When Will There Be Good News? by Kate Atkinson. The story starts with a knife attack on a mother and her three young children on a country road which leaves only the six year old,Joanna Mason,the lone survivor.
Thirty years later,a ex-cop named Brodie is rescued from a train crash by the nanny of Dr. Joanna Hunter,the former young Mason. When Dr. Hunter mysteriously disappears around the same time that the man who went to prison for the Mason murders has been released, Brodie is recruited by the nanny to find her.
This book has just come out for sale and while I've never read an Atkinson book,this does sound intriguing.
Planet Books Pick: Between Here & April by Deborah Copaken Kogan. This debut novel deals with the repressed memory of a childhood tragedy by Lizzie,a TV producer/journalist,involving the death of her first grade friend April Cassidy. April was killed by her mother Adele(who then took her own life) back in 1972,along with her sister.
Lizzie not only goes to therapy to cope with her new found memories of that time but does some research into the Cassidy family as the basis for a cable TV documentary and winds up finding out way more than she ever intended to.
The book is due out on September 30th,and it should be a well received book from what I'm hearing about it.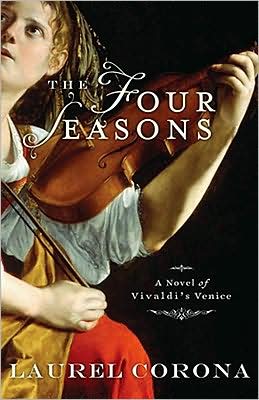 LRG Pick:
The Four Seasons: A Novel of Vivaldi's Venice by Laurel Corona
. This story has two sisters at the the heart of it,who are abandoned at infancy in the alleyway of the Ospedale della Pieta,a well known foundling hospital and musical academy.
Chiaretta is the more high spirited of the two and a natural born singer,who gains a fast rise to fame with her exceptional voice. Her sister Maddalena is drawn to the violin and her passion and strides towards mastering it catches the eye of Antonio Vivaldi,who develops a relationship with her and makes her one of his muses that inspired his legendary composition,The Four Seasons.
The Four Seasons is set to arrive in stores in November and I'll be reminding everyone about it in my November/December book preview later this fall.
Now,I'm supposed to tag three other blogs with this meme but I'm sort of shy when it comes to these things,so any of my regular readers(and the irregular ones,too)are free to grab this baton and run with it,if they please. Book recommendations can be tricky and giving books as gifts to people you don't know very well can be just as hazardous to one's social health: